Mostra itinerante Premio Architettura Alto Adige 2019 Bressanone
07.02.2019 18:00 Vernissage Interverranno all'inaugurazione: Arch. Carlo Calderan / Presidente della Fondazione Architettura ...
07/03/2019 - partner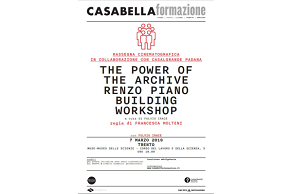 We suggest: Casabella formazione: documentario The Power of the Archive. Renzo Piano Building Workshop
Informazioni & iscrizioni : https://www.casabellaformazione.it/ Regia di Francesca Molteni e a cura di Fulvio Irace, realizzato in collaborazione con la Fondazione Renzo Piano, Casabella e Milano Design Film Festival.
20/09/2019 - partner
We suggest: AMONN & FINGERLE 1906-1940 AMONN & FINGERLE L'amore per la casa. Tra architettura, arte e quotidianità.
Soltanto nella città di Bolzano risultano attribuibili ad Amonn & Fingerle circa 200 progetti; non tutti però sono documentati in modo esauriente. Per questo motivo invitiamo coloro che siano in possesso di fotografie o progetti di mettersi ...